Xello is an online careers education program your child is using in school to help them prepare for the future. It offers a variety of activities that are suitable for children from 11 to 18 years old. These activities help students build self-knowledge, explore their options, and create achievable plans. They develop the 21st-century skills needed to thrive in the world of work.
It's important for students to take ownership in planning for their future. But the caring adults in their life play an essential supporting role. Use your Xello Family account to see your child's work in future-readiness. Use this opportunity to discuss and support their future goals and plans.
Navigating Your Xello Family Account
Log in to Your Account
When your child's school or college has created a Xello Family account for you, you'll receive an email. The email will include a link to activate your account within 7 days of receiving it. All you'll need to do to get started is set a password.
Note: If you haven't received the activation email, it may have redirected to your spam folder. Make sure to remove "xello.co.uk" from your email spam settings to receive this and future messages from Xello.
If you forget your password:
Visit https://login.xello.co.uk
Click Having trouble signing in?
Enter your email address and click Send Email.
You'll receive an email to reset your Xello Family password.
If you don't have a Xello Family account, ask your child's teacher to liaise with the careers leader at the school or college to create one for you.
Get Around Your Account
Your child will need the support of caring adults to achieve their dreams. One of the ways you can support their future is through Xello Family.
The dashboard is the first page you'll see when you log in. From here, you can manage your personal account, check out your child's work, and access the demo account.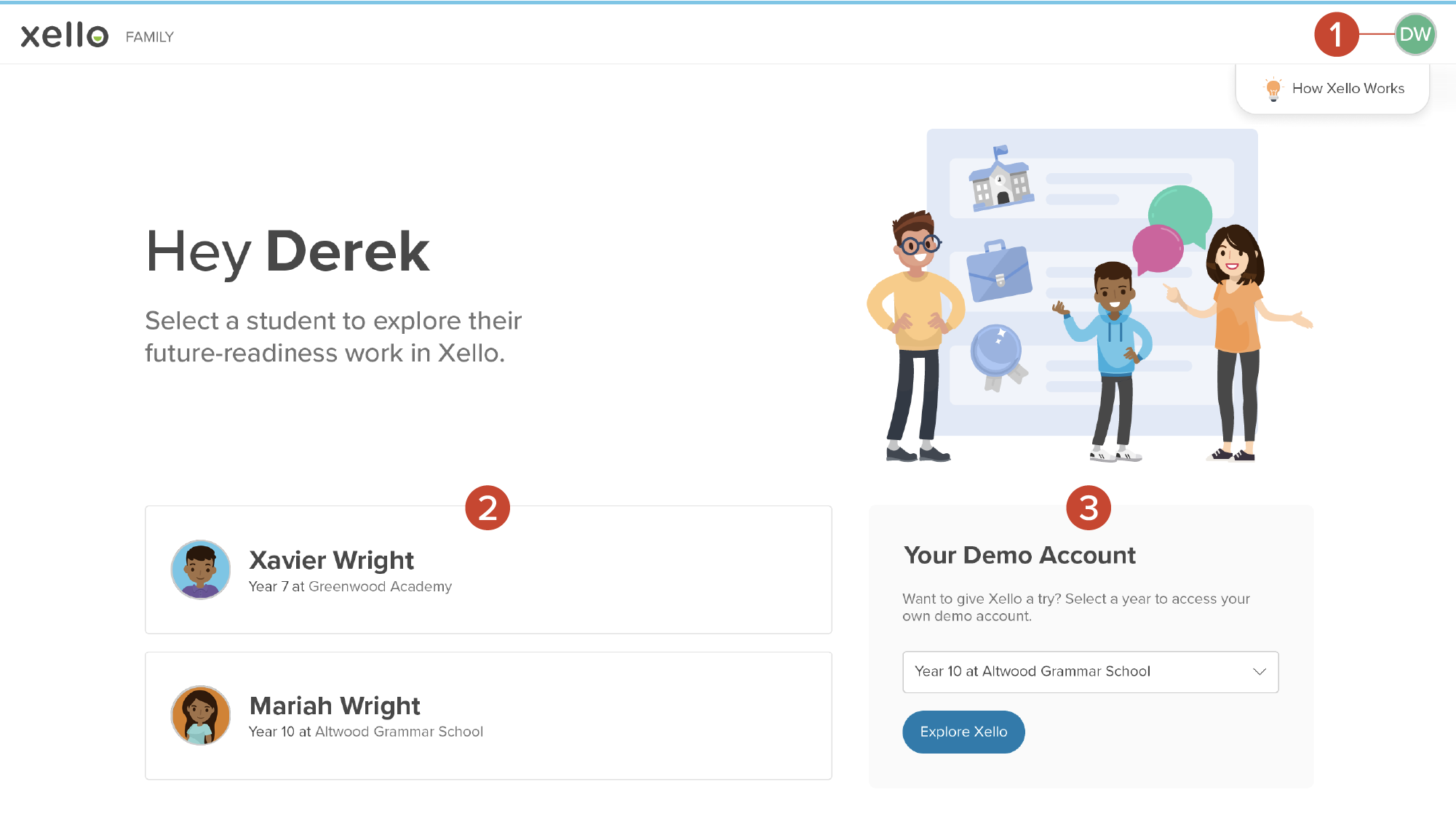 Manage your personal account
Customise your personal account. Access your profile menu in the top right corner of any page. Upload a profile image, or add your mobile number.
View your child's work
Check out the work your child has completed. Click on their name to begin. If you have more than one child using Xello, they'll each have their own profile that you can review.
Try Xello yourself
Select a year and start exploring. Use this opportunity to experience first-hand what your child is working on in school. Try a Lesson, complete an assessment, or explore careers!
Check out this short video for an overview of key features and how to get around your Xello Family account.
Back to top
Your Child's Xello Experience
Xello Student Experience
Watch this video to see Xello from a student's perspective. Get an overview of the key features. Learn how Xello helps students build a personalised plan for a successful future.
Xello is a careers education and future readiness tool for secondary school students aged 11 to 18. It helps students of all backgrounds, abilities, and aspirations become future ready. Xello puts students at the heart of their journey of self-discovery. And every student builds the skills and knowledge for success in their own unique future.
Build Self-Knowledge
With Xello, students discover more about themselves. It encourages them to record and reflect on their strengths, skills, and interests. They use what they've learned to build a plan that gets them excited and ready to explore!
ExploreStudents learn about career possibilities and educational pathways. They explore careers with engaging and relevant content. When exploring colleges and universities, they learn about campus environments and courses offered. Career, apprenticeship, college and university profiles help them envision their own future.
Create a Plan
Every student has a different idea of what their future will look like. Having the opportunity to set goals and build a plan helps students begin to put their ideas into action. Xello helps students build a plan starting now.
Learn & Reassess
As students gain experience, knowledge, and skills, they reassess and change their plans. The skill to adapt as they learn is one that will support them well into their future.
Tip: Check out your child's Saved Options. Learn how they're feeling about their career and post-secondary choices. Use your demo account to explore the careers in Xello yourself. Discuss opportunities they can take advantage of now, while they're still in school.
Back to top
Future-readiness Articles
Using Xello at home
Your child was first introduced to Xello in school, but there's lots they can do outside of the classroom. Here are some ideas for how your child can use Xello at home:
Complete an interactive Lesson. These are activities assigned to your child's year. Lessons help students build vital skills for persistence, resilience, and real-world success.
Complete an Assignment. Your child's careers leader or teacher may have created assignments for your child to work on.
Build their About Me page. The About Me page helps your child to discover more about themselves. They define their interests, skills, and aspirations. Using this self-knowledge, they can explore the opportunities that are right for them.
Explore. They learn about career possibilities and educational pathways. While reading through different career and school profiles, they save their favourites.
Back to top
Safety and Accessibility
Safety & Privacy
We take data protection and privacy very seriously. Xello complies with the General Data Protection Regulation (GDPR).
Password Security
Password and data security are important to Xello. This is why no passwords are visible in Xello for students or educators.
We use industry-standard best practices in data security. This includes using a technique called "hashing" to store all passwords. This means that once a password is encrypted, it cannot be decrypted.
Session Timeouts
As long as a student is actively working in Xello, their session will stay open. If a student doesn't interact with Xello for 30 minutes, their session will expire. They will need to re-enter their password to continue working.
Simply moving the mouse will not keep the session active, they have to interact with the application.
The "Keep me signed in" Option
When you log in to Xello, there's an option to Keep me signed in. If you tick this box and then log in, your session won't time out even after 30 minutes of inactivity. The next time you go to the login.xello.co.uk
page, you'll be logged in automatically.
Tip: Do not check Keep me signed in if you're working on a public, shared computer.
Accessible Environment
Accessibility ensures that people with disabilities can use Xello. This includes compatibility with assistive technologies like screen readers.
Xello has been designed and developed to be compatible with the WCAG 2.1 Level AA standards
.
Core Components of Accessibility
A myriad of techniques have been implemented to make Xello accessible. Here are some of the main pillars of our accessibility strategy:
Colour contrast and font sizes meet the standards described in WCAG 2.1 Level AA
Captioning for all audio and video content
Full keyboard accessibility
Use of ARIA-live regions for screen readers
Screen Readers
All screen readers that support the above standards are compatible with Xello. To verify that we are meeting these standards, we test with the following screen readers:
NVDA in FireFox on Windows
VoiceOver in Safari on Mac and iOS
JAWS in Internet Explorer on Windows
ChromeVox
Note: Other screen readers will also work with Xello if they are compliant with the standards listed above.
More Accessibility Techniques in Xello
There are a lot of techniques used to make Xello an inclusive experience. Accessibility is built in at the design stage both for features and content.
Links are provided to skip navigation that appears on every page
Font sizes are made as large as possible
No hover effects are used without equivalent click actions
Drag and drop components have keyboard alternatives
Images do not contain instructional or informational text
Colour alone is never used to convey information
Focus indicators are maintained throughout the site
Forms include explicit labels and placeholder text is minimised
Table columns and rows use proper markup
Maintain simple navigation to reduce cognitive load
Student-facing content is written to a year 7 reading level
Links use descriptive text, e.g. not "click here"
Back to top